Services
Do you want to spatially enable your organisation or businesss? The Selkirk Geospatial Research Centre (SGRC) can provide many geospatial services and products for your needs. If you are a non-profit organisation or a small-medium enterprise (SME) please contact us with your ideas or projects and allow us to enrich your geospatial world.
Internet Mapping & GIS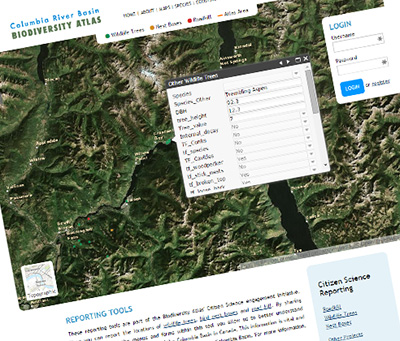 Our staff specialises in web services and development. With a over 50 combined years of experience in web development and project management, allow our team to tailor a GIS solution for you, using either industry standard ESRI products or open source solutions. We are passionate about the web and can provide many other web related services.
Print based Cartography
Here at the SGRC we are also able to provide large format printed media, be it mapping products or imagery. Our clients desire strong print based products in addition to web based media and we deliver.
Throughout the ADGIS program, instructors and researchers attached to the SGRC focus on print based cartography—it is a natural extension to our clients needs.
Spatially Aware Research
Through grant programs and community funding initiatives the SGRC can provide your organisation or small-to-medium enterprise (SME) with access to methodologies and viewpoints within the spatial domain. Check out our projects above to see a small sampling of past research and development work, including grants from the Natural Sciences and Engineering Research Council (NSERC), funding from the Columbia Basin Trust (CBT) and cooperative grants achieved with the Rural Development Institute (RDI) here at Selkirk College.
Training & Education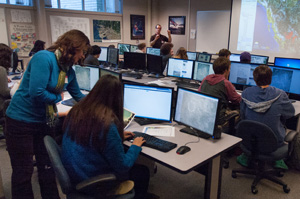 The Selkirk Geospatial Research Centre's staff is fully capable of providing training and education for your organisation. Our staff teaches in the Advanced Diploma in GIS and Bachelors of GIS programs at Selkirk College—either directly or in a support role.
Many individual community groups have received training from staff and coops at the SGRC, including members of the Columbia Basin Watershed Network and the Know Your Watershed teams. We are experienced in producing training materials for your delivery as well.
Allow us to customise a training solution for your team and bring GIS into your world.
---
New Fields
Unmanned Aerial Vehicles
A new area of geospatial intrigue, UAVs provide an unparalled view into our world. The advancement of remote sensing techniques with UAVs is a growing passion of the SGRC. We are currently partnering with a burgeoning UAV company in the region to develop new possibilities for our clients and community through training and resources.
Last updated on 2015-01-22 18:47