BOS Forestry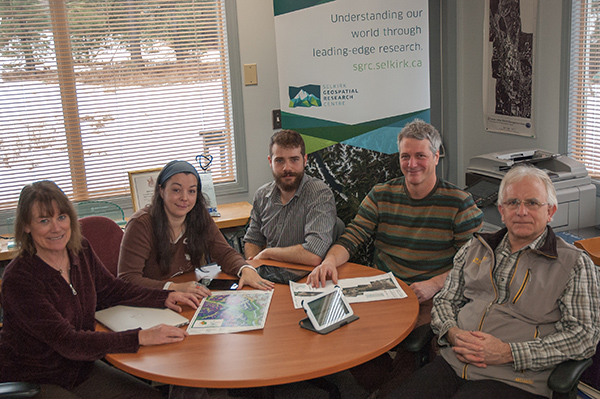 SGRC Lead Researcher: Suzanne Ector
SGRC Researchers: Justin Robinson, Ian Dennis
SGRC Interns: Suzanne Fordyce
Collaborators: Valhalla Software Ltd. / BOS Forestry Inc.
Funders: Natural Sciences and Engineering Research Council (NSERC)
"Working with a local business on a project that has the ultimate goal of fueling growth of sales of a commercial software suite brings challenges not often presented to the SGRC team. The choice of technologies and platforms as well as product roadmap decisions depends on Valhalla Consulting's current and future customer base, and a careful analysis of where the Forestry Industry is headed. As a result, this is an important and exciting project. I feel like I'm back in Silicone Valley - North." — Suzanne Ector
Through the support of a NSERC CCI ARD Level 1 grant, the Selkirk Geospatial Research Centre (SGRC) and Valhalla Software Ltd are collaborating on the development of geospatial tools to augment Valhalla's BOS Forestry Suite. The BOS Forestry Suite is a set of enterprise data management and reporting tools that run on both the desktop and on the cloud. Valhalla has customized the development of BOS Forestry for forest operators in southeastern B.C.; however, core elements of the software suite have applications across the global forest industry sector. The SGRC is a geomatics centre of excellence at Selkirk College that conducts applied research, develops applications, and delivers Selkirk's Advanced Diploma and Bachelor of GIS programs. The SGRC has significant experience in developing sophisticated web-based map services.
The grant is being used primarily to determine the best opportunities for expanding the BOS Forestry Suite by deploying the SGRC's expertise in web-based geospatial services. This scoping process has involved Forestry instructors at Selkirk College working closely with BOS Forestry and SGRC team members to model forest workflows and identify where geospatially enabled software tools could add value. Meetings been the collaborators and existing BOS Forestry clients will further focus project effort.
In order to determine in more detail the technical requirements for geospatially enabling the BOS suite, a development server environment was required that collaborators and BOS clients could all access. Fortunately, the SGRC was able to access free services on the DAIR cloud: as this is part of the CANARIE system, it provides excellent bandwidth as well as many built-in tools and resources. This is the SGRC's first exposure to development on the cloud: all of the SGRC's projects to date have been developed and published on in-house servers. As software applications move onto the cloud, this experience will equip SGRC researchers and Selkirk GIS instructors for the future.
The grant also provided a research assistantship for a Selkirk College Bachelor of GIS student. The student is obtaining research experience, software development experience, and business experience while completing her BGIS degree.