Biodiversity Atlas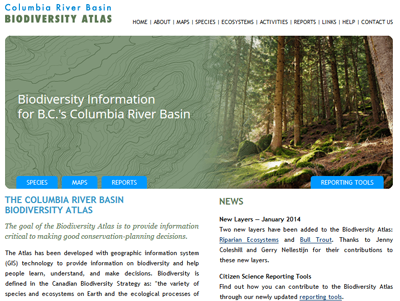 SGRC Lead Researcher: Ian Parfitt
SGRC Researcher: Justin Robinson
SGRC Interns: Suzanne Fordyce, Christie Rajtar, Kaela Perry, Justin Robinson, Dan Teleki.
Collaborating Agencies: Parks Canada, BC Ministry of Forests, Lands and Natural Resource Operations, The Nature Trust of BC (TNT), BC Hydro /Fish & Wildlife Compensation Program (FWCP), FortisBC
Funders: Columbia Basin Trust , BC Hydro/FWCP, TNT, FortisBC.
The Columbia Basin Biodiversity Atlas helps improve conservation planning and decision making by providing science-based information in an easy-to-understand format. The web-based Atlas was one of the first Internet mapping applications developed in BC when it was launched in 2001, and has now been continually available online for nearly 14 years. The SGRC uses the latest ArcGIS server technology to link biodiversity information to specific locations within the Canadian portion of the Columbia River Basin. The application also includes summaries on over forty species and three ecosystems, each of which is linked to recent reports. The BioAtlas also includes three reporting tools for citizen science contributions.