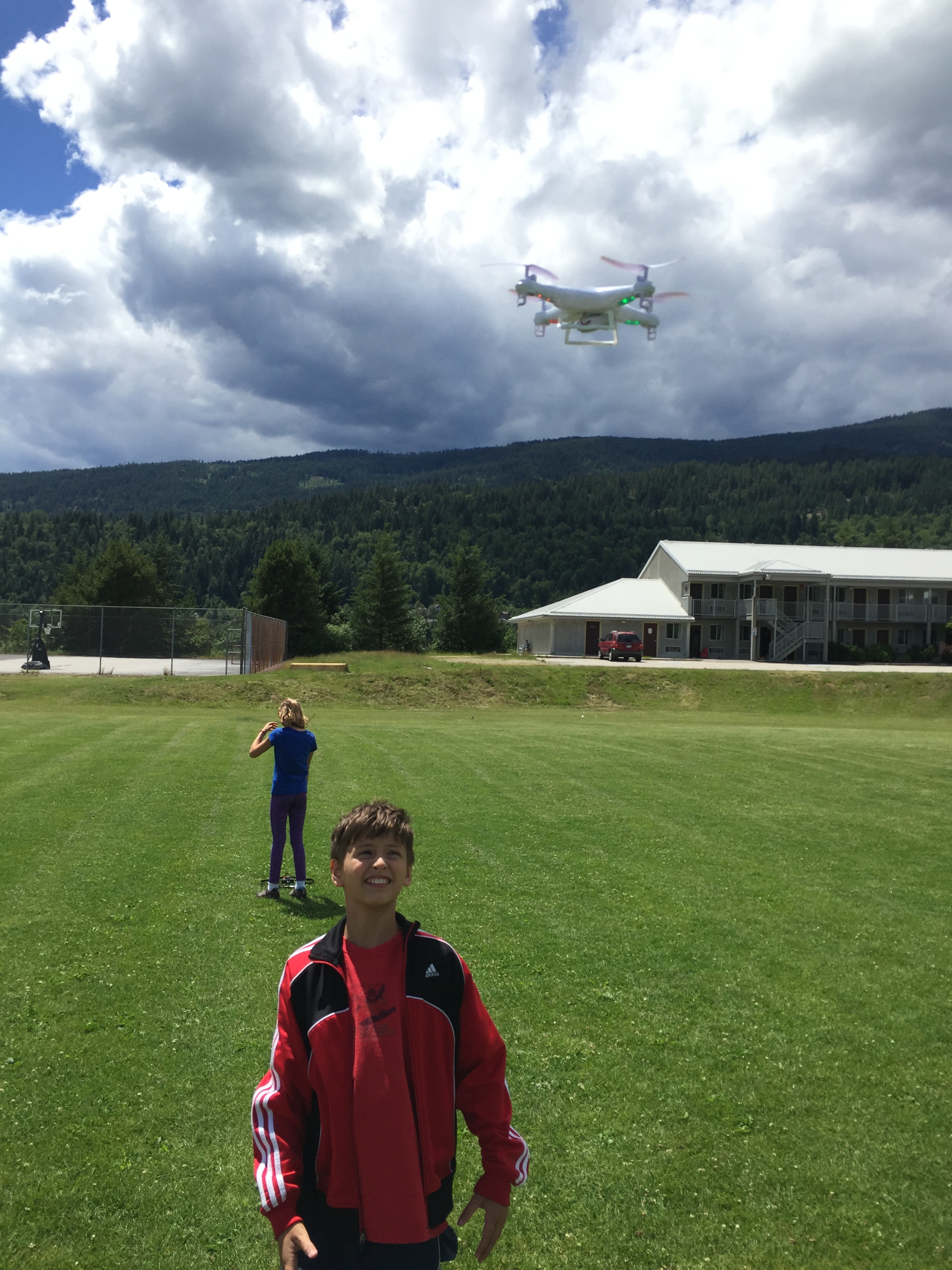 Drones and Kids
By Eric Hoodicoff on 2016-07-22 21:49
Students from various schools in the West Kootenays visited the Selkirk College Castlegar campus in the spring of 2016. Selkirk hosted "Experience Selkirk Day" on May 19th which brought in around one hundred 10th graders looking into the possibility of continuing their education there after high school graduation. Another younger group of around 50 students (grades 4-8) also toured the college for "Mini U Day" on June 15th.
The young students took part in various activities around the campus during their stay. One of these activities was put on by three co-op students working at the Selkirk Geospatial Research Centre (SGRC) for the summer. David Greaves, Jan Pindroch and Eric Hoodicoff, who are recent Selkirk Geographic Information Systems Advanced Diploma students and members of the Selkirk College drone club, brought various drones for the activity.
The SGRC's Solo 3DR drone, mainly used for aerial photography and infrared research missions, was on display for the students to see. The Mini U group were lucky to have the weather on their side so they were also treated to a demonstration in the soccer field. "Which one of you is the fastest runner? I'll give you a head start." asked Greaves. The students chose their champions and they were given their head start. The Solo drone powered on, lifted 20 feet into the air, and sped to the other side beating the students by a few seconds.
Now it was the students' time to fly as they took turns attempting to maneuver the various recreational drones around the gym and soccer field. For the majority of the students, this was the first time they've even had an opportunity to fly an unmanned aerial vehicle. There were many crash landings, many drained batteries, and a few prop replacements but the demonstrations were a success. Many of the students commented on the drones activities being their favorite part of their visit. Perhaps we will see some of these students join the drone club at Selkirk in the near future.
Photos by David Greaves and Eric Hoodicoff