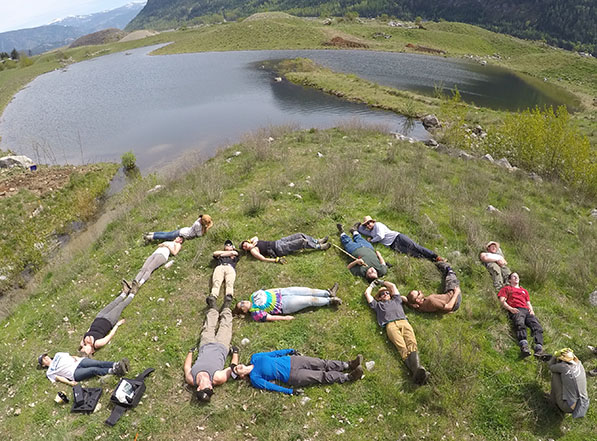 SGRC Drone Project Takes Off
By Ian Dennis on 2016-04-20 22:07
The SGRC Drone program lifted off with its first project this week. Integrated Environmental Planning students were restoring habitat around a pond close to the Hugh Keenleyside Dam in Castlegar, BC. The plan was to use the drone to produce imagery of the site before and after restoration, and the pre restoration mission was flown last week.
A 3dr Solo drone has been aquired by the SGRC and this was fitted with a GoPro Hero4 camera. Mission planner software was used to delineate the survey area, and determine the number of flight passes required to capture the whole scene. The plans were uploaded onto the drone, and after take off it was flown on autopilot to record the imagery. Unfortunatley due to a bug in the control software, it was not able to control the camera shutter, so it had to set manualy one shot per second. Control points were marked on the ground, and recorded with differentially corrected GPS. A total of two flights were required to capture the lake area, with a number of test missions requirered to get the camera control sorted.
The survey produced over 600 images. Post processing involved adding a gps location to each image by crossreferencing the time on the image to that on the GPS flight log on the drone. Images were then stiched together, to form an orthomosaic of the scene as well as a 3D digital surface model.
The end product was very impressive with the orthmosiac image having a pixel size of 1cm compared to tradional imagery such as Google Earth with a pixel size of around 1m. Please take the time to zoom scroll and rotate the 3D model of the site (pre-restoration) shown below .