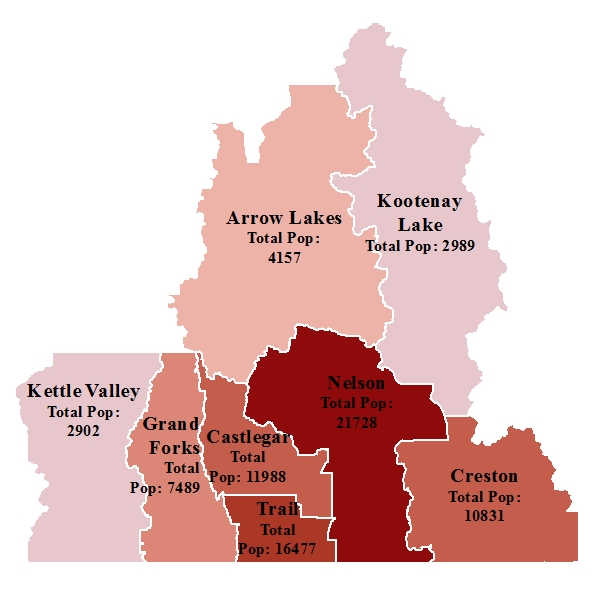 Mapping Population Changes and Health Services in the West Kootenay Boundary Region
By Kailee Woodbeck on 2015-09-25 15:04
Total Populations by local health areas in the West Kootenay- Boundary Regional Hospital District
We were recently contacted by a few Regional Directors at the Regional District of the Central Kootenay (RDCK) to see what we could do with GIS to map health services. The main interest from the regional directors was to see if we were able to map population demographics in the region and relate these population changes to the locality of diagnostic facilities, hospitals and residential care beds. The directors were also interested in exploring transportation options in the region. The SGRC authored a report on our findings for the RDCK directors.
The full report can be viewed here.
Joining Different Data Types and Enabling Time Properties
The first task of this project was to map changes in the population. Stats Canada offers population projections by demographic into 2034 for BC. This dataset had the option to be divided by local health area. With a little manipulation to the population dataset, and a join to the local health area boundary layer, we were able to visualize changing population demographics by enabling the time properties of the layer.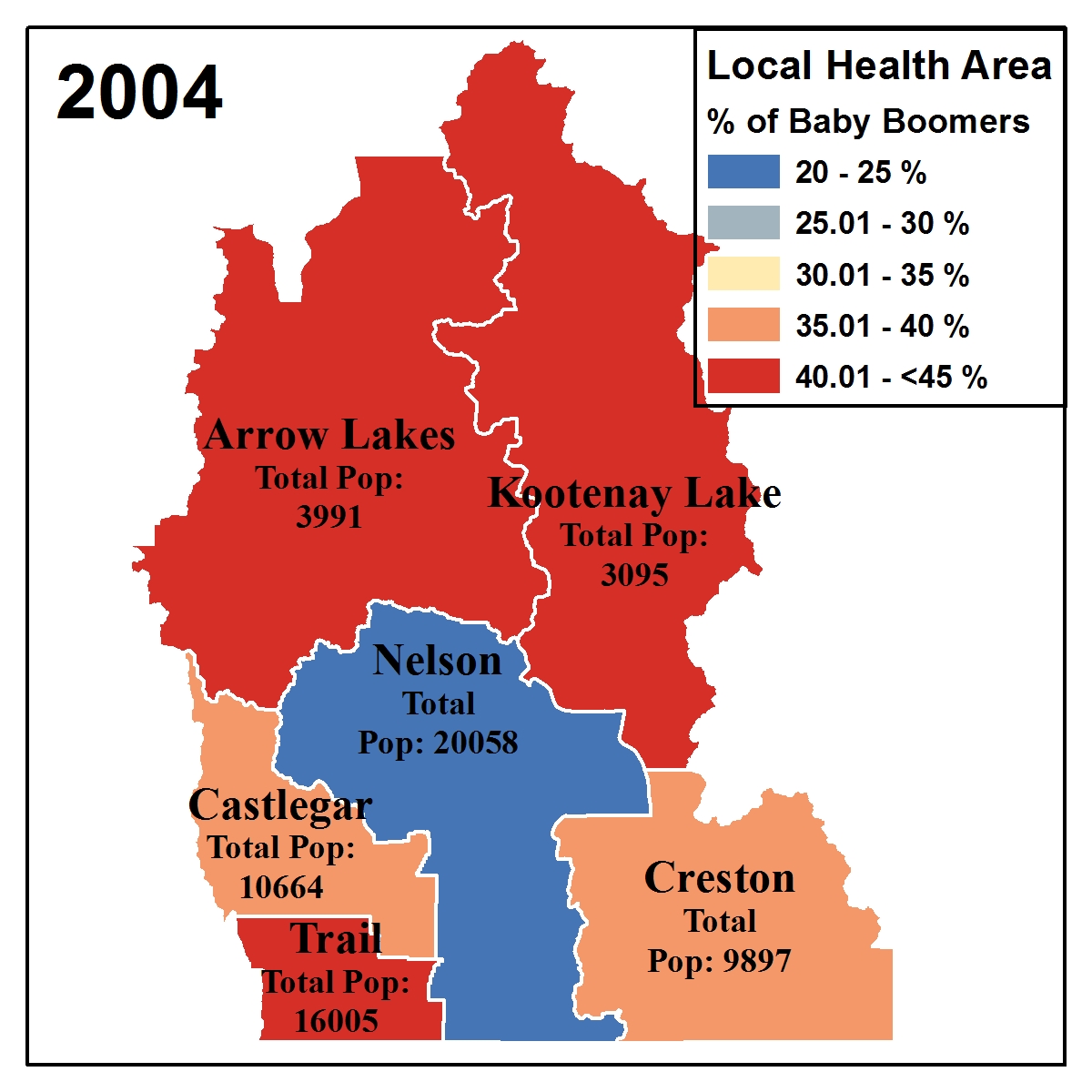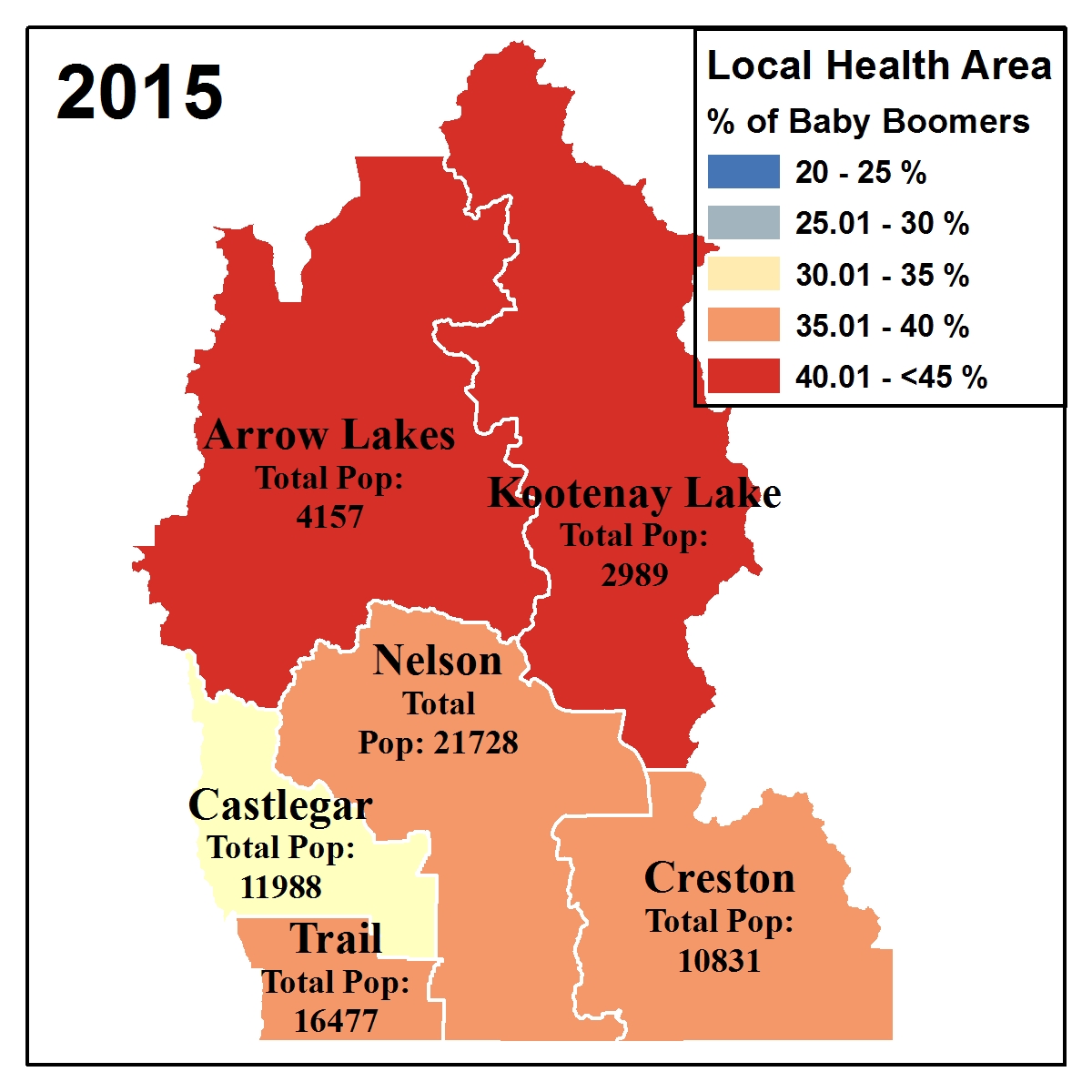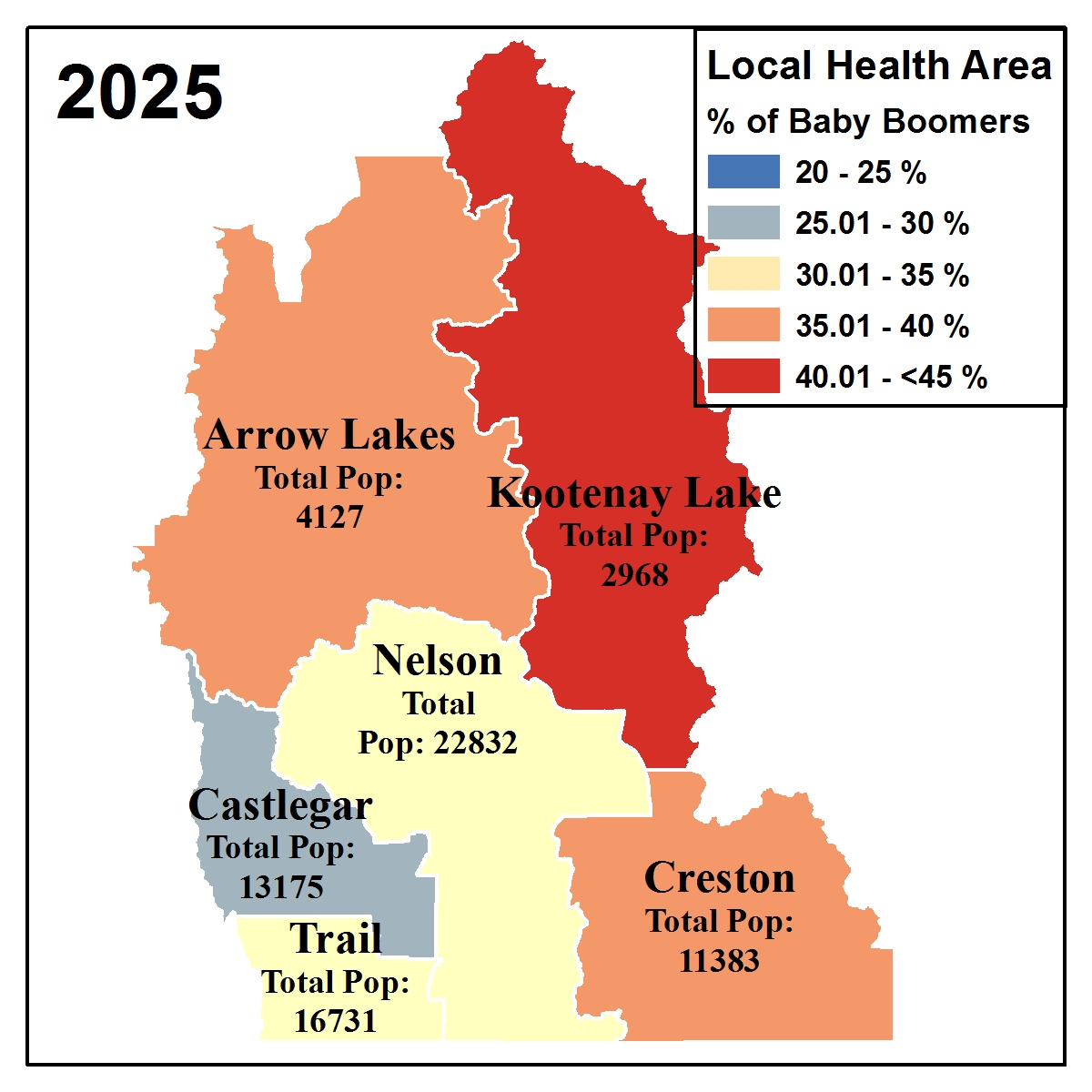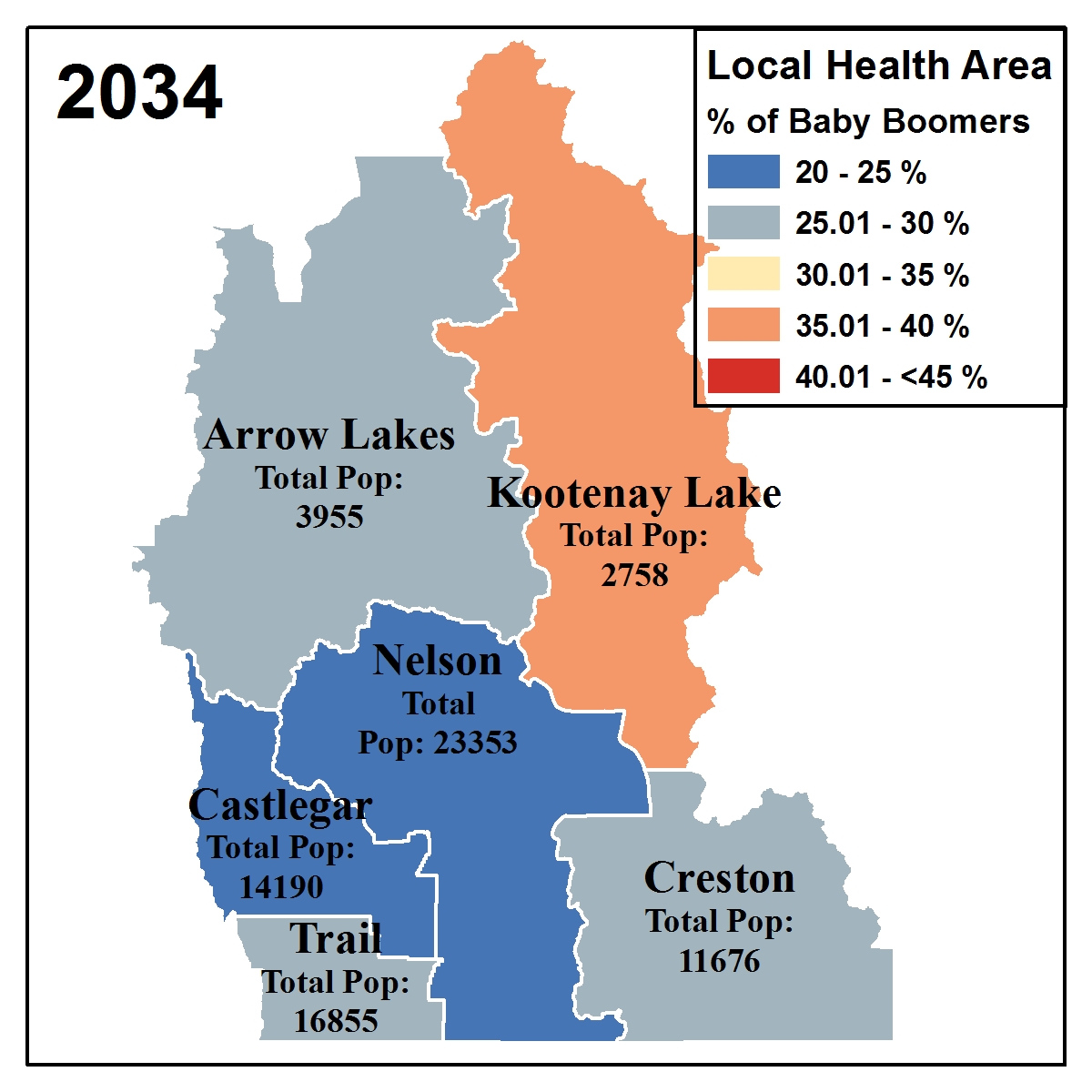 Baby boomer population projections by local health area.
Service Area Calculations Using 'Network Analyst'
The next step was to examine the area serviced before and after the closure of Kaslo and Castlegar hospitals. Using the 'Network Analyst' extension in ArcGIS, service areas around the hospitals were calculated in intervals of 1, 2, and 3 hours. Service areas were also calculated for types of diagnostic facilities throughout the West Kootenay- Boundary region.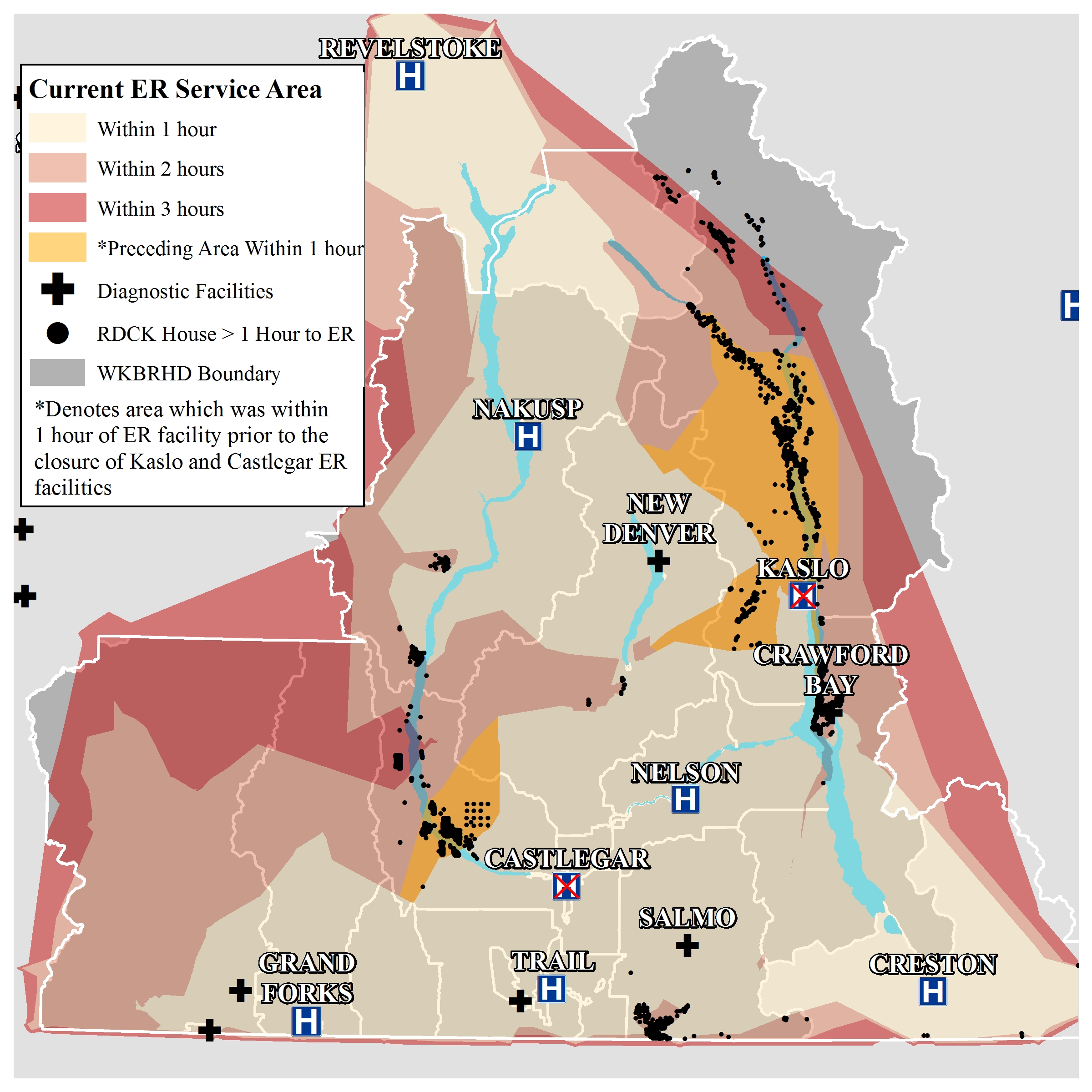 Results of hospital service area calculations.
Digitizing and Visualizing
Identifying different transportation options was a bit more difficult as BC transit did not have available raw data for this area. Through a bit of** digitizing** from BC Transit website, we were able to come up with a series of maps that visualized bus routes based on the day of the week for the RDCK boundaries only.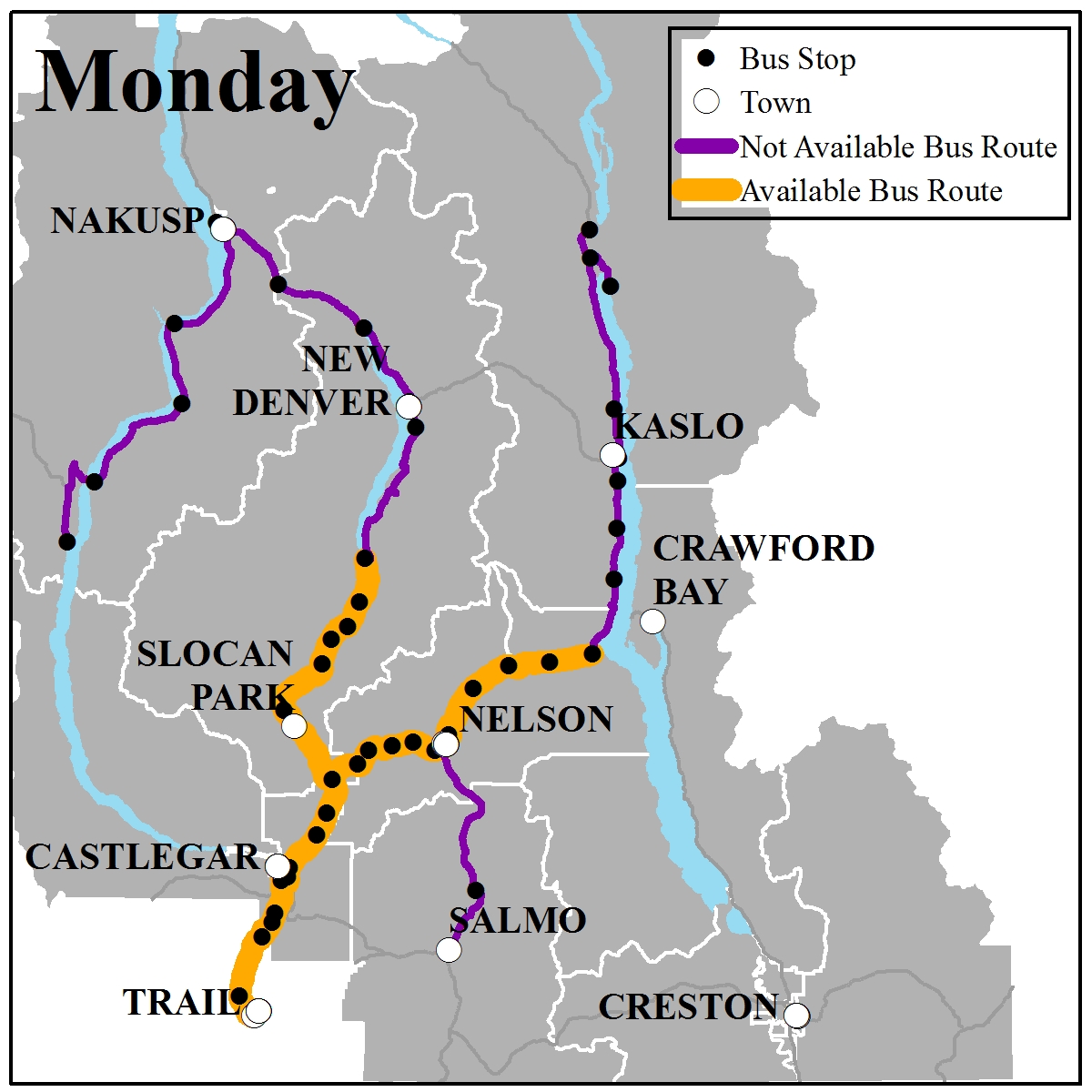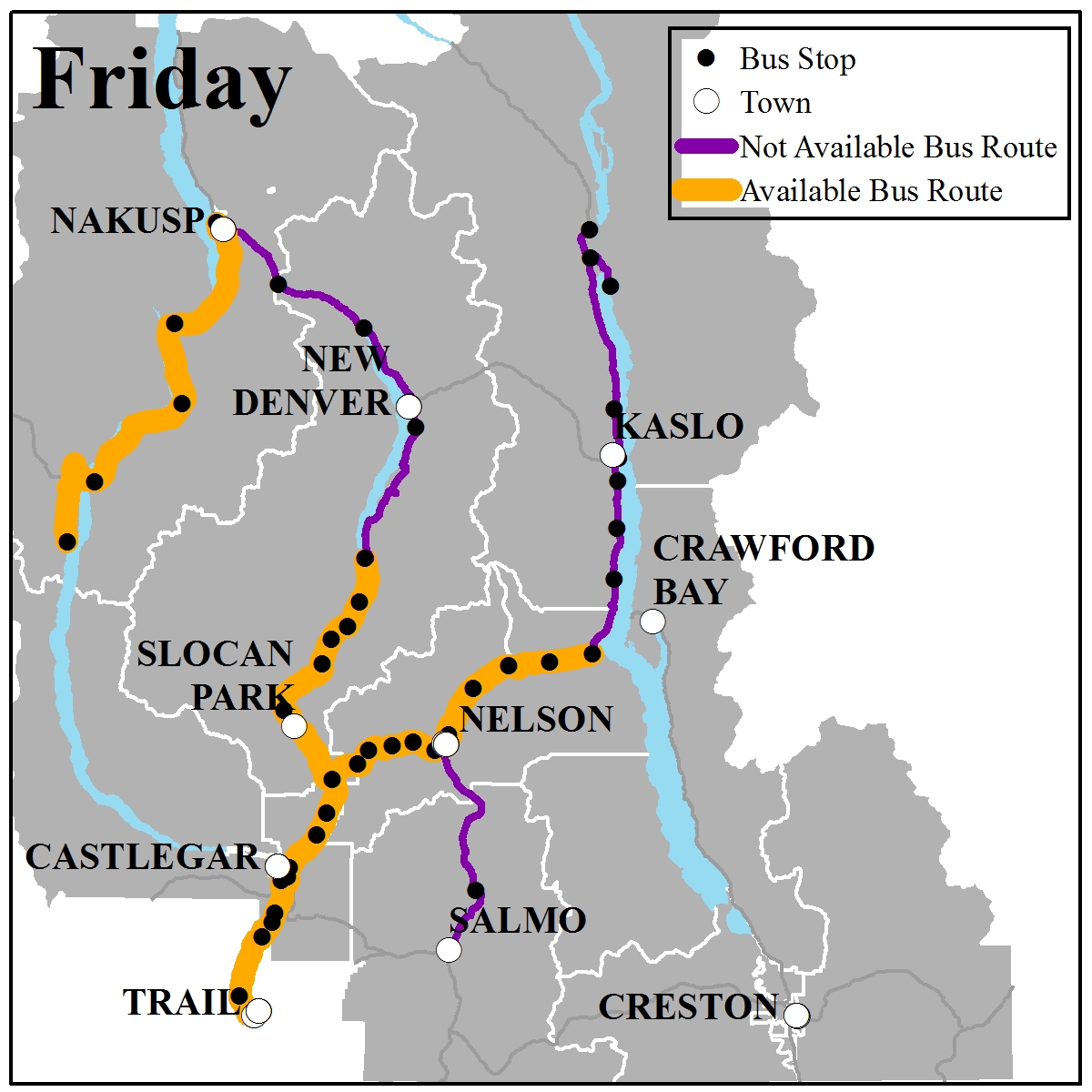 Available Bus routes for Monday and Friday within the RDCK
What we've found out so far...
From the results of our analysis, we were able to determine that the population over 65 years of age is increasing at a rate of 8% by 2034 in the West Kootenay- Boundary region. Hospital bed counts were also determined to be lowest in this region when compared to the Okanagan local health areas and the entire province of BC. Gaps in transportation options, especially in local health areas with a higher percentage of seniors was also identified.
Interest from organizations such as the Columbia Basin Rural Development Institute has continued to move this research forward.
Stay tuned for more results from this analysis.
Software used: ArcGIS 10.3 (Network Analyst extension), Excel 2013
Interested in learning more? Contact us for more info!