IODC 2016
By Ian Parfitt on 2016-12-13 18:58
The 4th International Open Data Conference, also known as IODC 16, was held in Madrid, Spain on the 6th and 7th of October 2016. Besides the two days of the official conference, 28 pre-events were held from the 3rd to the 5th, creating a weeklong open data celebration in Madrid.
I was fortunate to be able to attend IODC 16: it turned out to be a great way to rapidly get up to speed on open data theory and practice, in particular to learn what I could about open data in a rural context. This will establish a solid foundation for our three-year SSHRC-funded "Open Data for Open Government in Rural BC" project. In this post I'll briefly describe the events and sessions I attended and will provide you with lots of links for more information. Here are a couple of the big ideas I encountered:
Think about data consumers as well as data providers. There needs to be a trust relationship developed between people on both sides of this divide. There is always resistance to providing open data: one of the main factors is typically fear of negative feedback due to issues with data quality. Indeed most feedback will be negative. Providers need to develop a thick skin and accept the feedback: consumers need to point out the positive aspects as well as the negative ones.
Data is a means to an end. Focus on the outcomes of interest and determine what data is required.
Unconference: The Open Exchange for Social Change, Tuesday October 4
The IODC conference venue in Madrid is called IFEMA, and it's a huge facility located between central Madrid and the city's international airport. Open data events were only a small part of what was happening in IFEMA that week: there was also a giant food conference taking place. When I arrived on Tuesday I was a disorientated but eventually found my way along the moving sidewalks from IFEMA's south entrance to the northern part of the complex and up the escalator to the rooms where IODC 16 was still being set up. Eventually I found the room for the Unconference, and joined the big circle of international open data researchers and activists that were planning the day. This was my first Unconference as well as my first deep dive into open data at an international level, but the facilitation was excellent and soon I was participating along with the more hardened open data folks. The Unconference was organized by Open Knowledge International (OKI – formerly the Open Knowledge Foundation). The basic outline for the day was that the group decides what to discuss in the morning, and then breaks up into groups to tackle the topics in the afternoon. As I am interested in rural open data, I suggested that as a topic in the morning: this was translated into "hyper local applications" by the facilitator. Not surprisingly for an international event like this, most of the focus was on action that could be taken at the national and sub-national (i.e. state or province) level with much less focus on smaller communities. After lunch I joined a small group (6 people) to discuss rural and hyper-local open data which by then had a new title: "Amplify Local Activity". We more or less developed a rough outline of a workplan to advance the practice of open data in local government that I believe will be quite useful for our research over the next 3 years.
The Open Exchange for Social Change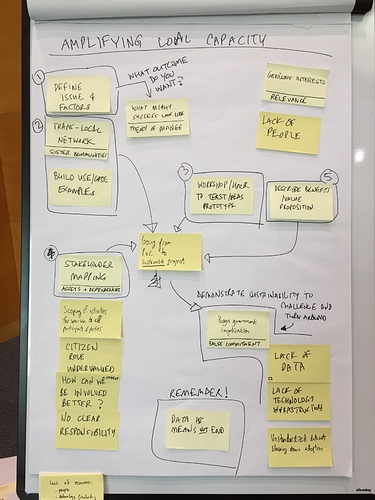 "Amplify local data – overview workplan" -- Johnathan Van Guens
Open Data Research Symposium, Open Cities Summit, and Data Movida, Wednesday October 5
After getting immersed in open data at the Unconference, I planned for a big day of pre-events on Wednesday. This day included participation at the Open Data Research Symposium at IFEMA in the morning, then heading downtown to the Medialab for the Open Cities Summit in the afternoon, and joining Data Movida, a walking tour of the city punctuated by open data research talks in the evening.
The Open Data Research Symposium comprised several concurrent paper sessions at IFEMA. I attended a session on strategies to maximize open data benefits and mitigate privacy risks (Paper 5.1: see link to agenda below) that was quite interesting although unfortunately due to a room change was located in the main concourse where the ambient noise made it hard to hear some presenters. Next was a paper on open budgeting in the Caribbean (Paper 1.6): open budgets are emerging as a cornerstone of open and accountable government. Finally I heard how open data can help manage dengue fever outbreaks (Paper 8.1).
It was exciting to leave the conference center and travel to downtown Madrid. Suddenly I was wandering around in a European capital, gazing upon famous places like the Prado museum and the plaza where Real Madrid celebrates its football victories. After getting lost a couple times and resorting to my GPS enabled phone to set me straight I made it to the Medialab, which reminded me of the old Emily Carr School of Art and Design on Granville Island in Vancouver. Beautiful architecture, funky spaces, and a fab-lab in the basement. Here I joined a breakout group discussing how to make city services accessible. One of the most interesting people in this group was the person responsible for providing the Mayor of New York City with data services. His experience was eye-opening: even in a place like New York with its considerable resources, the engineering department was not keen on releasing data due to concerns about data quality. Of the 350 odd comments they've received about their open data, 350 odd have been negative, which can effect morale in a department. However, over time and with much attention to user engagement and lots of testing of user interfaces, he felt things were improving and moving to a better place. He highlighted the need for more resources to support the open data function.
As the breakout group wound down, I wandered off in search of an address in central Madrid where the Data Movida pre-event was meeting. It turned out to be quite easy to find, even though the addressing system in Madrid seemed a little ad hoc. Soon I was ushered into an old stone building and up a staircase to the offices of Carto (formerly CartoDB) for the first stop on the Data Movida tour. This was my first visit to a software company headquarters and it lived up to the myth: a big recreation room with ping pong, a private theatre, a beer fridge, and a fully stocked kitchen. The actual offices were on in a big high ceiling room complete with chandeliers. Here we heard the young chief officers of vizzuality (a map and graphic design company) and Carto speak about open data. The graphics were powerful and the message was that data should be made local, actionable, and collaborative. Soon we were back down on the street, heading to our next stop on the tour, a bordello turned bar. In this venue a World Bank researcher told us how open data was supporting the millennium sustainable development goals. After a few tapas and a glass of wine, it was back on to the street for another 5 or 10 minutes to a map and book store where we heard a summary of PhD thesis into illegal fishing that made use of open data. Our last stop was back at the Medialab where we became part of a performance art piece by becoming a point on a map of the world formed by conference participants.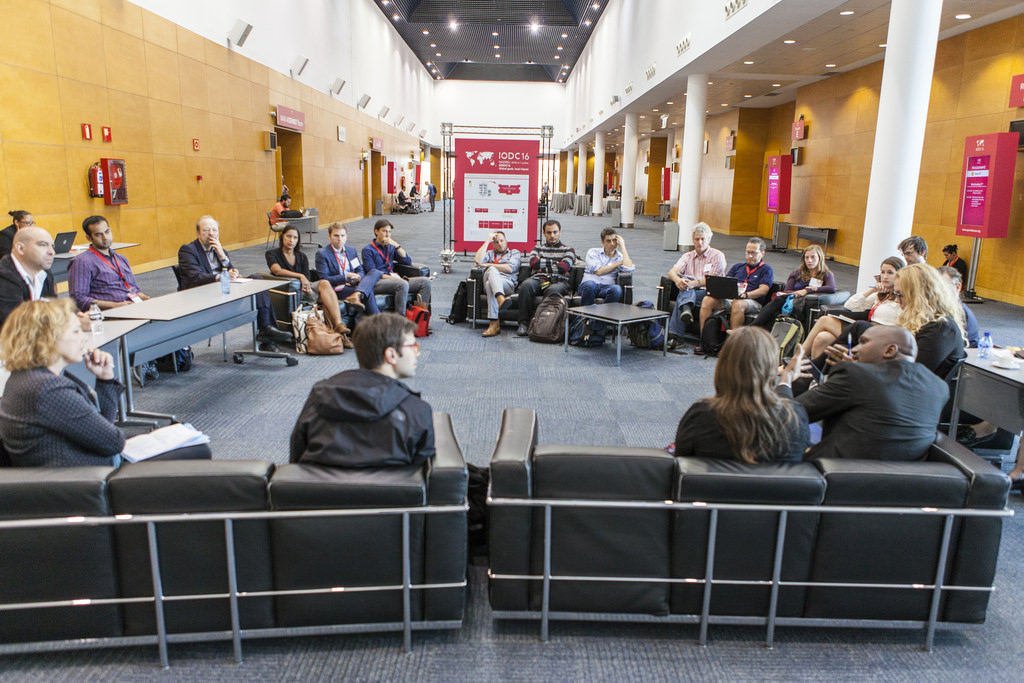 "The risks and benefits of open data." -- IODC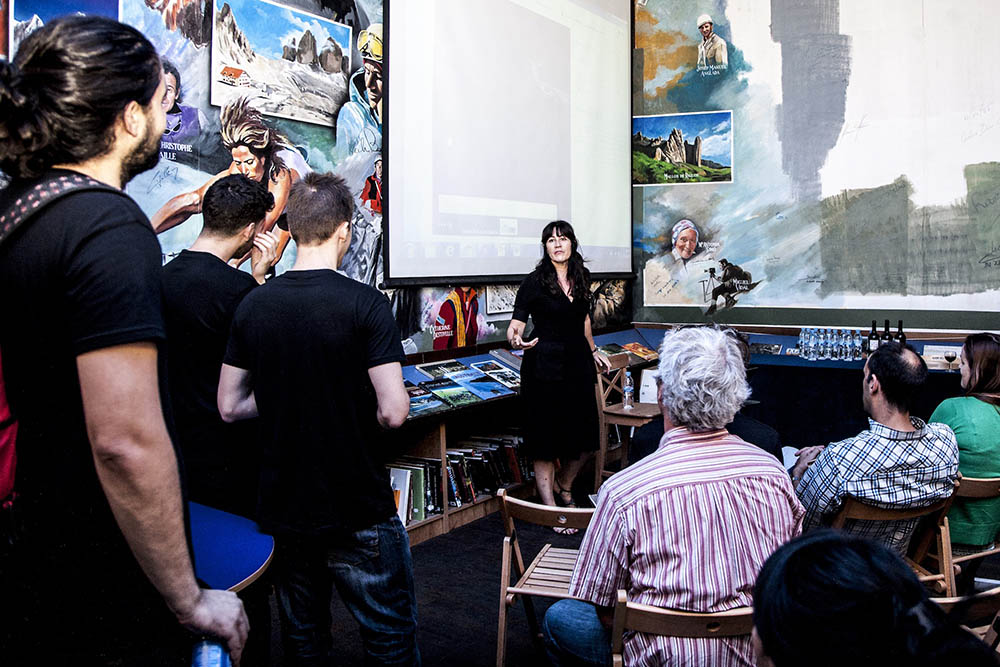 "Dr Miren Gutierrez discusses her PhD thesis using data visualisations by Carto and FishSpektrum.com" – Camellia Williams
IODC 16 Thursday Oct 6 and Friday Oct 7.
Finally it was time for the main event. The conference began with a plenary session that started nearly an hour late because one of the panel members, a Madrid City Councellor, was stuck in traffic! After that small hiccup things ran very smoothly. I attended great paper sessions on topics ranging from geospatial open data, to open data and the environment, to open data for disaster management. It was a long day as I stayed for a 6 pm session on open data in North America that featured a presentation by Ashley Casovan, the lead for Canada's Open Government Portal. Friday was a bit more action orientated, including talks on teaching open data and leveraging data visualization for environmental action.
As the week passed I started to see more and more familiar faces. The OKI folks were everywhere and always engaging. Many of the people from Data Movida, including much of the vizzuality crew, seemed to be attending many of the same sessions as I was. As the conference finally ended I realized I was already looking forward to the next IODC, but I'll have to wait till 2018 as the organizers decided to take a break in 2017. I decided to set a goal for our project to have at least one paper at IODC 18, as by that point we should have some interesting results to share. Also, I've always wanted to go Buenos Aires!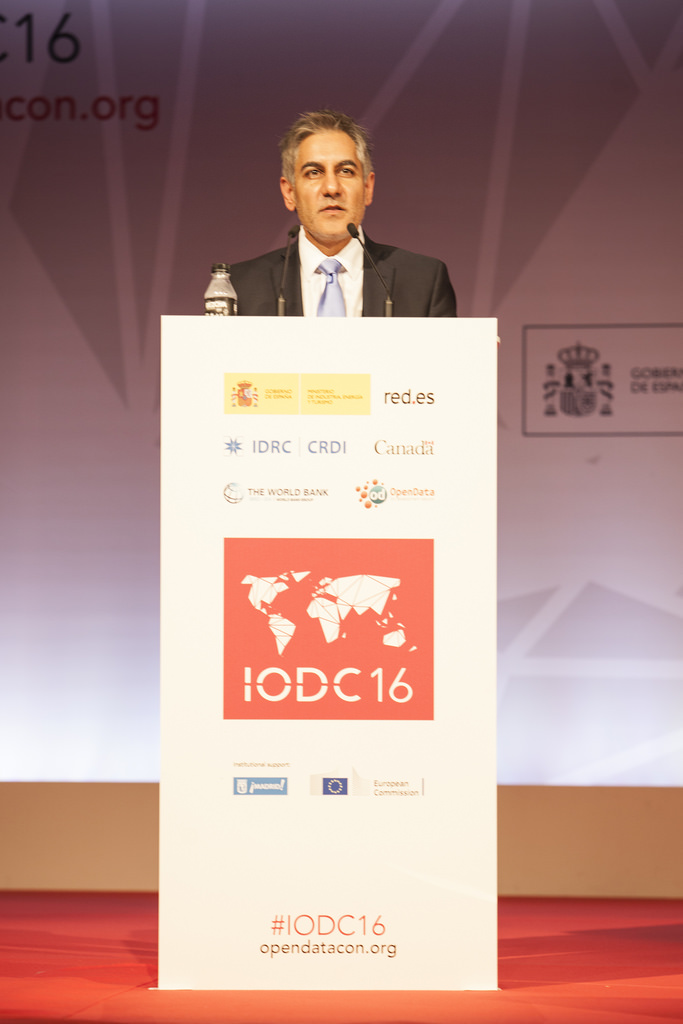 "Naser Faruqui, Director, Technology and Innovation IDRC addresses the IODC opening plenary" -- IODC
IODC16 in Review: Reflecting on Discussions at the North America Regional Talk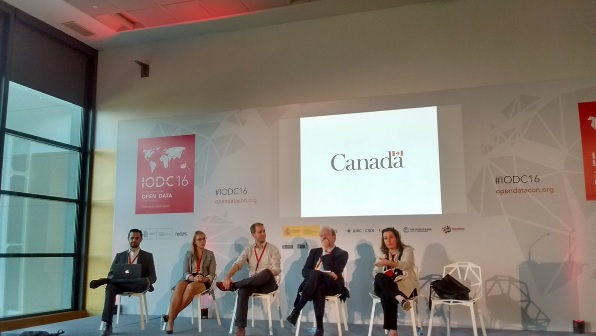 "North America Regional Panel: Ashley Casovan, Canada's Open Government Portal lead is second from left" -- IODC