Hunting for Data… Literally
By Joe Plessis on 2018-07-23 17:39
I always thought growing up in a place as wild and adventuresome as British Columbia that there was a significant backing of wild lands management and wildlife conservation. Oddly enough as I got older things just kept getting worse. British Columbia is allegedly infamous for having one of the worst most underfunded wildlife management organizations in all of North America, fortunately with a recent change in provincial government things are slowly getting better but the province is still very far behind.
My name is Joe Plessis and I'm from Sparwood B.C, Sparwood is home to some of the world's best Elk hunting and is one of the largest international producers of metallurgical coal… having growing up in this environment I have become very understanding of the rural culture and its needs. I'm your classic East Kootenay kid, grew up on a farm, I'm in love with the outdoors, I'm a self-proclaimed "expert" downhill skier and backyard mechanic (I'm bad at both); and I somehow ended up as a 4th year GIS Graduate at Selkirk college. For my final year at Selkirk I wanted to utilize my GIS powers and do my thesis project on something that really interested me. I've been hunting in British Columbia for over 18 years now, I'm 22 so I'm sure you can do the math to figure out when I started. Growing up in a Metis hunting family I was taught to always make an ethical choice over what animals to harvest and to never take more than you need. I figured I'd take my morals a step further and try to help along, in the very least, a new idea for better wildlife management practices.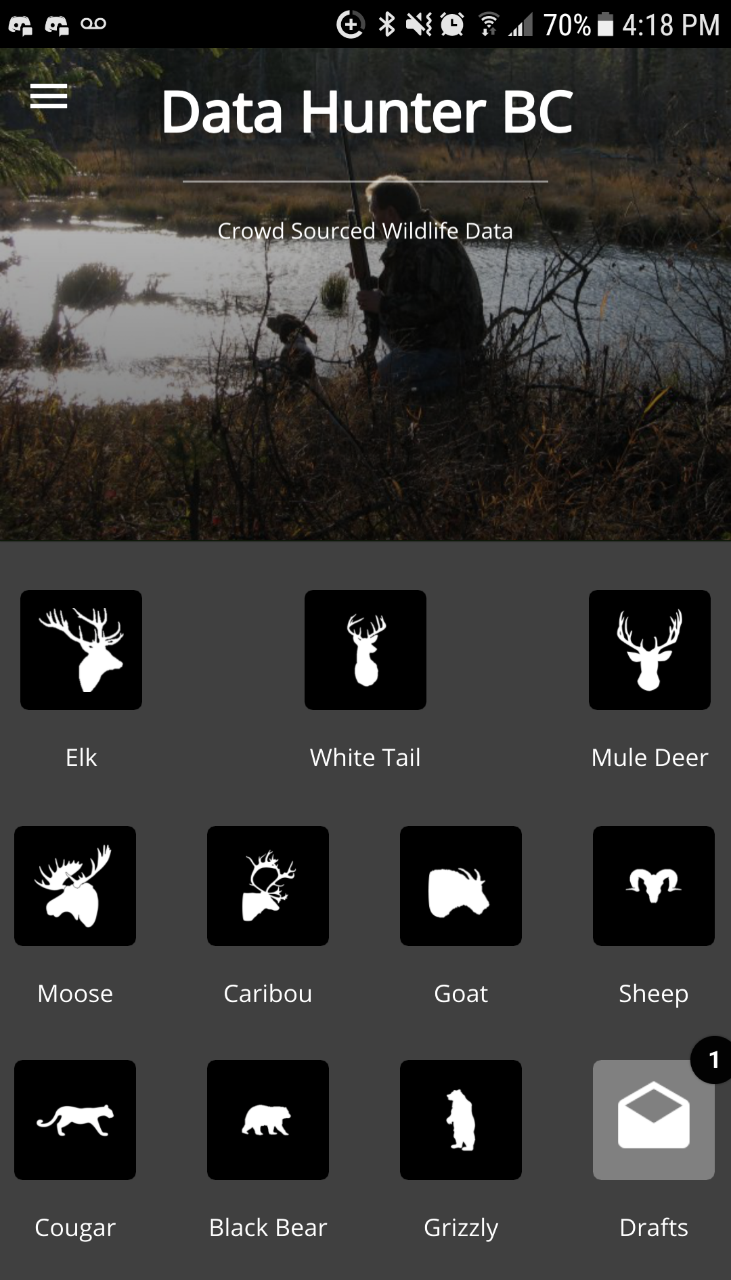 I created a mobile phone application called "Data Hunter BC". That's short for Data Hunter British Columbia… The premise of the application was to create a new way for wildlife managers to get data on their species of interest, and in turn possibly give the ability to better their research. The idea is to have hunters use their mobile devices to fill out information on wildlife species they identify while hunting, if they are not shooting of course.
The specific information this application was designed to collect was: species type, location, gender, age and species specific traits that define health and maturity. For example, the amount of spikes on an elk's antlers or the individuals overall vitality. The data collected by this application is submitted to an ArcGIS online database. From here users of this data can download and statistically aggregated information. The benefit to using hunters for the collection of this data is the hunter's pre-existing knowledge on different species and their progressive attitudes towards wildlife management.
The applications extent was limited by the scope of the 8 month thesis project and is currently still in very early development. It still requires many bug fixes and needs to address a keystone privacy issue which is where the data is stored. Many hunters I have spoken with love the idea of photographing and describing wildlife to help the management system but dislike the idea of their hunting grounds being exposed to other people. The ideal fix is creating a database that users may submit data to but not review. Access would only be given to administrative persons and of course, wildlife managers.